Passo Monte Croce Carnico
Leaving the car park at Terme di Arta we immediately head north on a traffic-free secondary road for 5 kilometres, and then join the main road which will take us all the way to the border. On this route there's plenty of excitement and encounters with our country's history.
The route begins uphill, and continues that way as far as the border. After some 15 km and having completed the toughest section of this first ascent, nicknamed "il moscardo", we come face to face with the Great War museum, underlining the extent of this area's involvement in the terrible events of 1915 to 1918. We're a stone's throw from the border, where the "Carnia Porters"  supported the Italian army during those bloody years.
A kilometre later, we're face to face with the war again. At km 16.9, as we admire a wonderful waterfall tumbling down the rocks on our right, directly opposite, in the meadows on the other side of the road stands the Ossuary of Timau. After this and until reaching the border, there's nothing but perfect asphalt, sustained climbing, one hairpin bend after another, and no houses contemplating the spectacular scenery towards the Italy-Austria border, which we'll reach after 24.5 km. Here we can take a well-deserved break at the bar at the top of the col. Having satisfied our need for food and drink, we then head back by the same route, enjoying 25 km of downhill to our starting point
Distance: 48,5 Km
Elevation gain: + 1057 mt
Max altitude:  1356 mt
Min altitude: 444 mt
Max gradient: 10%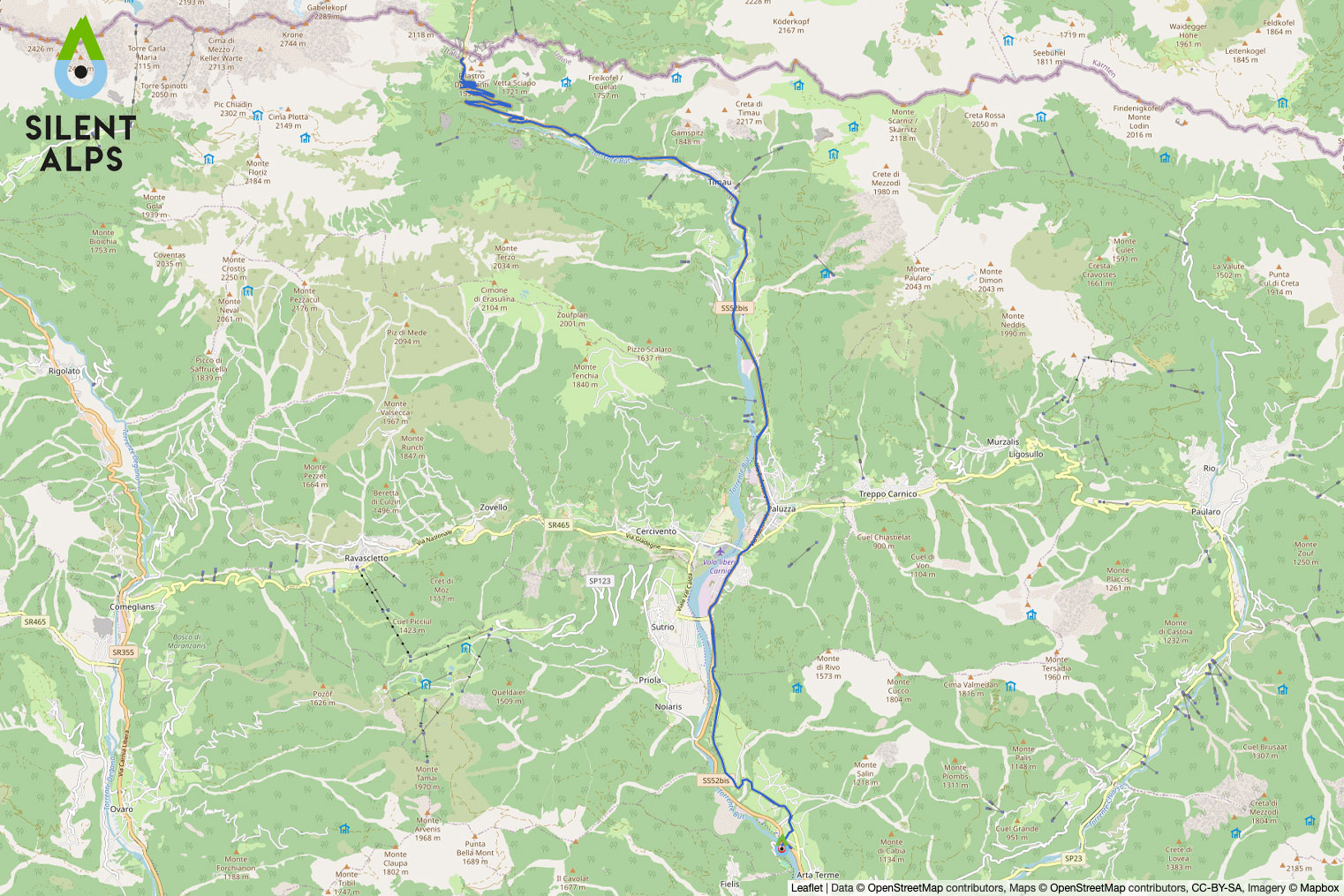 2
Km 4,8
Join the main road.
3
Km 10,6
Ascent to Moscardo.
5
Km 15,2
Start of the climb to Passo Monte Croce Carnico.
Arta Terme Benessere Alpino
Consorzio Turistico
Via Nazionale, n. 1
33022 Arta Terme (UD)