Sella Chianzutan – Passo Rest
"Into The Wild": no title could be more apt for this incredible route. You'll tackle two unforgettable climbs on perfect asphalt surfaces, and most of the route will be entirely free of cars; you'll see very few residential buildings along the way too.
The route begins at "kilometre zero": as always, the convenient car park in Terme di Arta. After approximately 11.8 kilometres we come to the Tolmezzo bridge, and turn right to start our first ascent, which will take us to the top of Sella Chianzutan. Having turned right and begun the climb, 16 km later we'll arrive in the lovely village of "Villa di Verzegnis". From the extraordinary green-roofed bell tower, you'll see in front of you a splendid valley where the cultivation of apples predominates, along with a surreal silence, broken only by children's voices from the village's only nursery school.
Leaving Villa, we cycle a beautiful road, stopping for an obligatory photo at its most scenic point, km 17.5. Some 3 km later, we begin the ascent to Sella Chianzutan (6.4 km, average 7%).
We pass through a delightful forest on a road that's featured in a famous uphill cycling race. For this reason, the road surface is in perfect condition (although this is the case for most of the route). Arriving at the top of the pass (km 26.6), we begin a 10 km descent, thrilled first by the beautifully even hairpin bends and then by long straight stretches that follow the Arzino Valley as far as the junction where we turn right towards the forest of Clauzzetto.
From now on, we assure you that you're entering another dimension, a wood you'll never want to leave. However, there's still some climbing to do, and after 22 km of woods and deserted road, you'll have clocked up another 600 m elevation gain. This takes us to Lake Tramonti, and we follow its valley (Val Tramontina) towards Passo Rest.
Instead of descending this valley, as we did with the Arzino, we head uphill, passing through the hamlets of Tramonti di Sotto and Tramonti di Sopra
When we've left all the buildings behind, we begin one of the most spectacular climbs in Friuli Venezia Giulia, with 73.7 kilometres and elevation gain of 1600 metres already on the clock. According to data from the 2022 Giro d'Italia the climb has 26 hairpin bends in 8 km, with a gradient that rarely falls below 9%.
We'll arrive at the top, km 82 at 1070 metres above sea level, exhausted. Then begins a descent we won't forget for a long time. A 7.3 km stretch of perfect asphalt, a forest bisected by a snaking black road that takes us to the dam on Lake Caprizzi, and the final climb: up to Forcella di Priuso (2.6 km and 14%), before heading back to Arta Terme on an easy cycleway.
Distance: 123 Km
Elevation gain: + 2600 mt
Max altitude:  1092 mt
Min altitude: 298 mt
Max gradient: 15%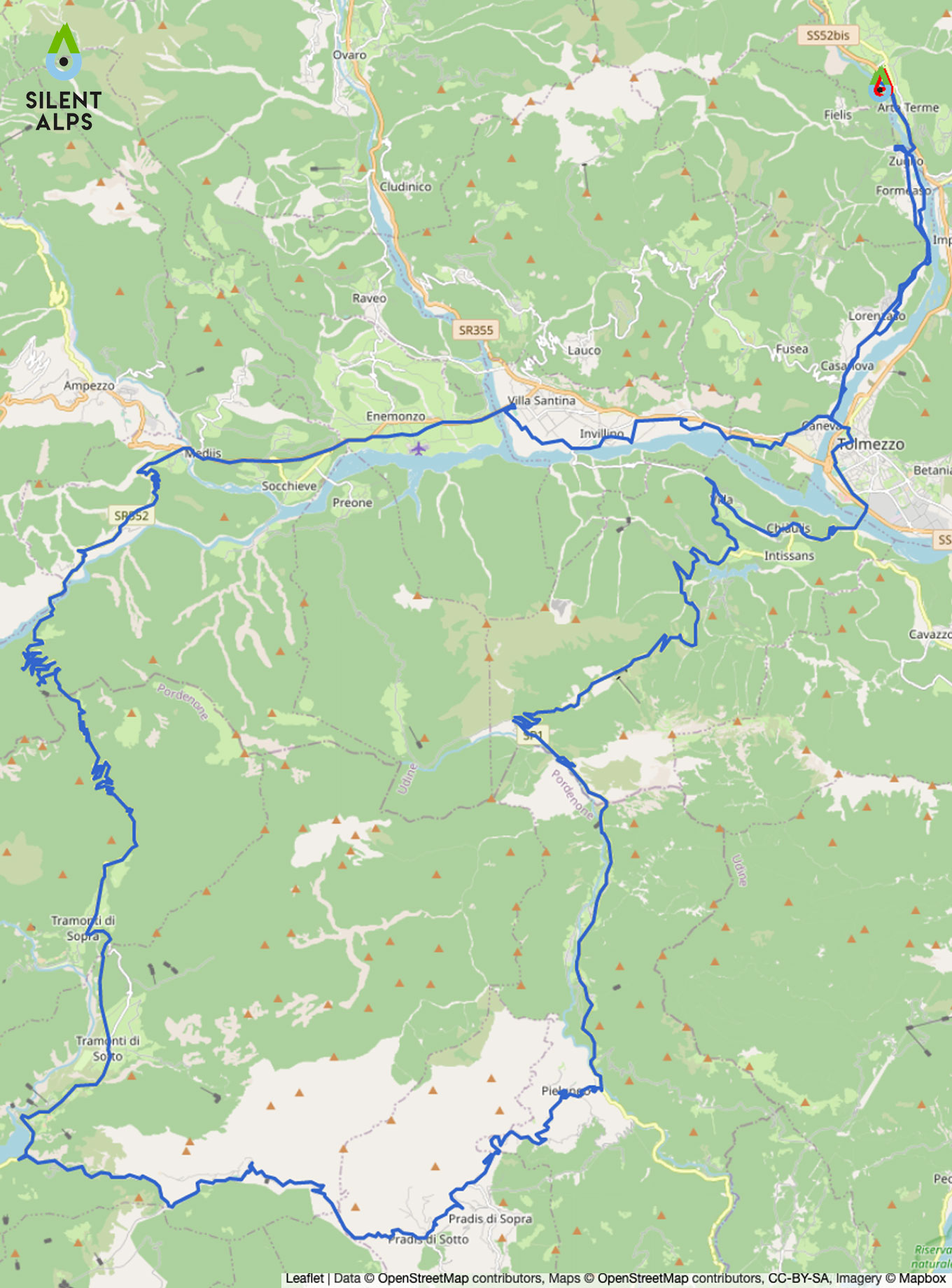 1
Km 0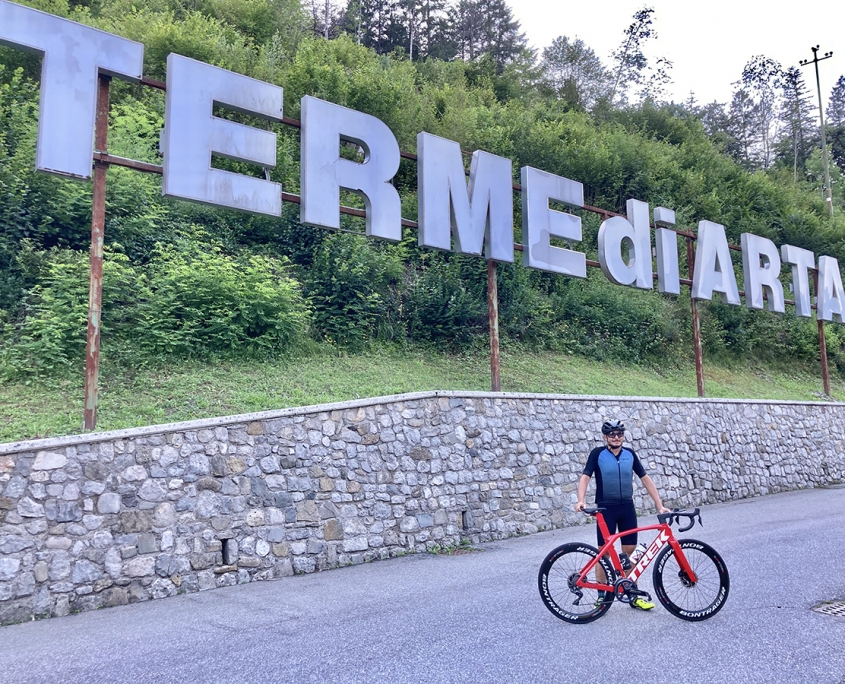 Departure from Terme di Arta car park.
2
Km 11,8
Bridge over the Tagliamento, Monte San Simeone to the left.
3
Turn right, climb 2 km to the turning for Villa
4
Km 14,0
Turn right for Villa di Verzegnis.
5
Villa di Verzegnis: we suggest a stop at Osteria Stella d'Oro (one of the most ancient fogolari in Carnia).
Campanile (Foto 2) e Osteria Stella d'Oro (uno dei fogolar più antichi della Carnia)
7
Km 19,4
Viewpoint overlooking Lake Verzegnis (lean over the guard rail).
8
Km 20,2
Ascent to Sella Chianzutan: length 6.4 km, average gradient 7%.
9
Km 22,8
Viewpoint.

10
Km 26,6
Sella Chianzutan (Bar Ristoro)
11
Km 27,5
Start of descent: approximately 10 km downhill with an average gradient of …
12
Km 37,0 San Francesco – bar-restaurant: the next food and water is 30 km and 700 m further, at Tramonti di Sotto.
13
KM 41,6
Turn right for Tramonti – Foresta di Clauzetto.
4.2 km climb at average 6.5%.
14
KM 46,0

Start of descent.
15
KM 47,1
Climb starts after Ponticello: length 1.9 km at average 6%; maximum gradient 13%.
16
KM 48,8
CAUTION! Turn right for the Cemetery: the steep section.
17
KM 49,0
End of ascent (2 km downhill).
18
KM 51,0
Turn right and start climb (3 km).
19
KM 54,0
Start descent (3.4 km).
20
KM 57,4
End of descent, Località Campone.
21
KM 63,4
Turn right, Tramonti di Sotto.
23
KM 67,3
Drinking water fountain, Tramonti di Sotto (bar at km 67.4).
24
KM 67,7
CAUTION Turn left for Tramonti di Sopra (do not take the turning for Tramonti di Mezzo).
25
KM 70,5
Tramonti di Sopra
26
KM 73,7
Start climb to Passo Rest.
28
KM 82,0
PASSO REST  (start descent, 7.3 km).
29
KM 89,3
Bridge over Lake Caprizzi  (with dam at km 89.8).
30
KM 90,4
Start climb to the Forcella Priuso col (2.6 km, average 6.6%, max gradient 14%).
31
KM 96,3
Turn right onto the main road bridge.
32
KM 100,6
Turn right for Campagna di Enemonzo.
33
KM 102,3
Turn right to return to main road, Campanile di Quinis.
34
KM 104,0
Turn right onto cycleway.
35
KM 115,2
Giro d'Italia mural on Enel building.
36
KM 123,5
Bivio Terme Arta
Arta Terme Benessere Alpino
Consorzio Turistico
Via Nazionale, n. 1
33022 Arta Terme (UD)