Sella Chianzutan – Valle di Preone
A DIVE INTO THE VALLEY OF BEARS
Into The Wild: no title could be more apt for this incredible route. You'll tackle two unforgettable climbs on perfect asphalt surfaces, and most of the route will be entirely free of cars; you'll see very few residential buildings along the way too. The route begins at "kilometre zero": as always, the convenient car park in Terme di Arta.
After approximately 11.8 kilometres, we come to the Tolmezzo bridge and turn right to start our first ascent, which will take us to the top of  Sella Chianzutan. Having turned right and begun the climb, 16 km later we'll arrive in the lovely village of "Villa di Verzegnis".
From the extraordinary green-roofed bell tower, you'll see in front of you a splendid valley where the cultivation of apples predominates, along with a surreal silence, broken only by children's voices from the village's only nursery school.
Leaving Villa, we cycle a beautiful road, stopping for an obligatory photo at its most scenic point, km 17.5. Some 3 km later, we begin the ascent to Sella Chianzutan (6.4 km, average 7%). We pass through a delightful forest on a road that's featured in a famous uphill cycling race. For this reason, the road surface is in perfect condition (although this is the case for most of the route). Reaching the top at km 26.6, we begin the descent of some 3 kilometres, then turn right to enter the beautifu Preone valley.
From km 31 onwards, the road is so perfect it'll seem like a cycleway, with velvet-smooth asphalt and practically non-existent traffic. We're so close to the river we can hear it on our left as it runs through dense woodland. The woods give way to a broad valley, where you'll marvel at all the beauty of the Carnic Alps. Having cycled alongside a low natural stone wall, so perfect it looks man-made, take care at km 36.0 with a very steep but extremely beautiful descent towards the village of Preone, where our route continues on cycleways back to Arta Terme.
Distance: 68,2 Km
Elevation gain: + 1057 mt
Max altitude:  956 mt
Min altitude: 298 mt
Max gradient: 12%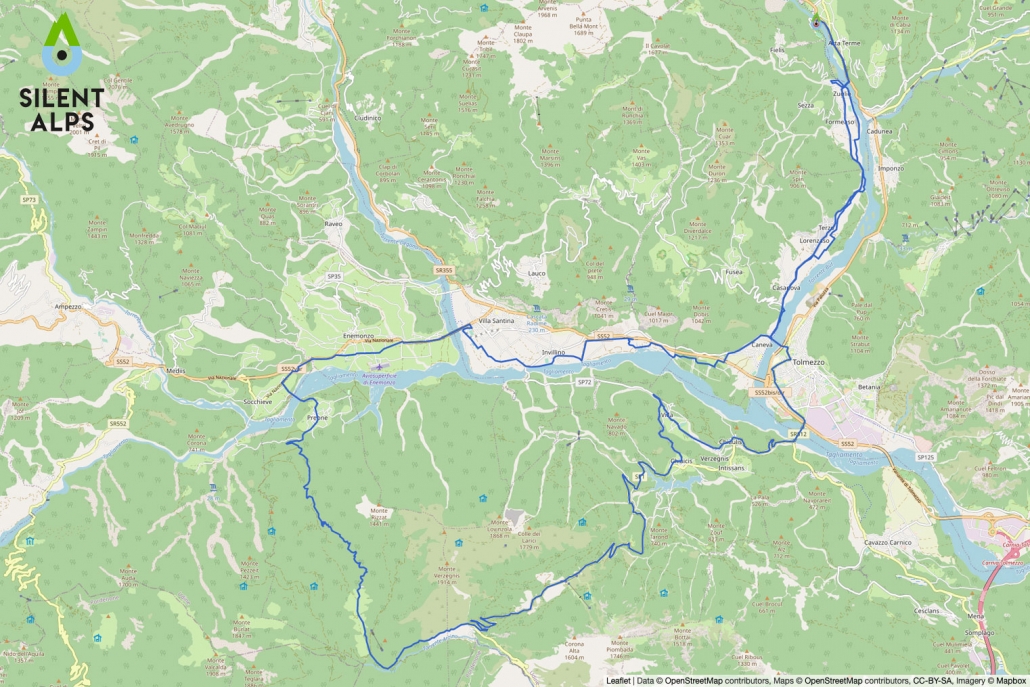 1
Km 0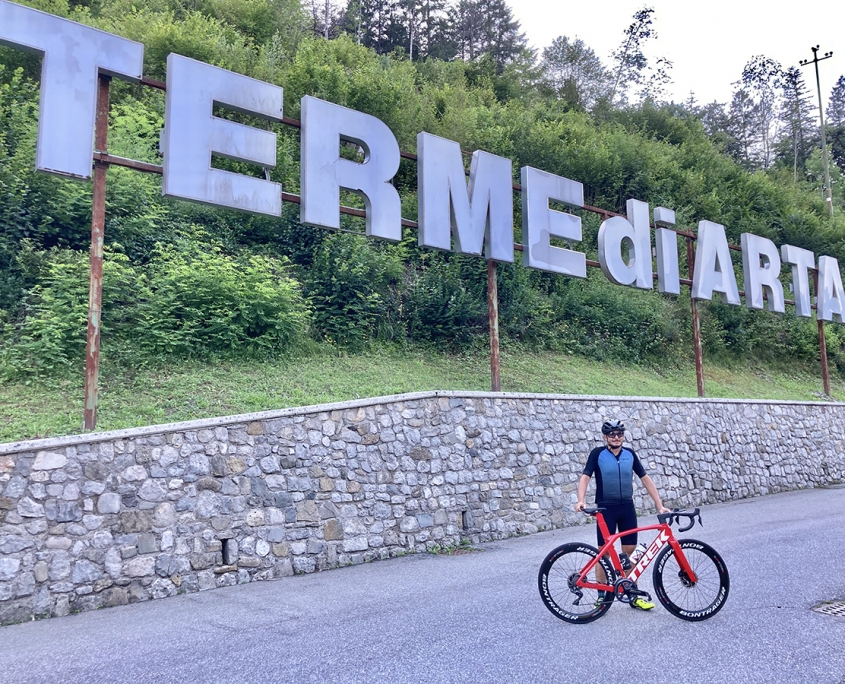 Departure from Terme di Arta car park.
2
Km 11,8
Bridge over the Tagliamento, Monte San Simeone to the left.
3
Km 12,0
Turn right, climb 2 km to the turning for Villa.
4
Km 14,0
Turn right for Villa di Verzegnis
5
Km 16,0 Villa di Verzegnis
Villa di Verzegnis: we suggest a stop at Osteria Stella d'Oro (one of the most ancient fogolari in Carnia).
7
Km 19,4
Viewpoint overlooking Lake Verzegnis (lean over the guard rail).

8
Km 20,2
Ascent to Sella Chianzutan: 6.4 km, average gradient 7%.

9
Km 22,8
Viewpoint

11
Km 27,5
The descent: approx 10 km with an average gradient of…
12
Km 31
Turn right on the forest road for Valle di Preone
14
KM 35,5
Baita al Pioniere
15
KM 37,4
Start of descent, dangerous due to steep gradients (caution)
16
KM 39,9
Fountain for refilling water
18
KM 44,4
Join the main road towards Enemonzo
19
KM 45,4
Turn right for Campagna di Enemonzo
20
KM 47,0
Join the main road
Arta Terme Benessere Alpino
Consorzio Turistico
Via Nazionale, n. 1
33022 Arta Terme (UD)