Casera Razzo – Val Pesarina
AUTHENTIC LAKES AND MOUNTAINS
If we've listed this route among our six favourites, there's a reason! Anyone who comes to the Carnia region and doesn't cycle routes that include Sauris and Pesariis simply has not cycled in the area.
In fact, this route takes in two of the most fascinating gems of this emerald green area of the Carnic Alps, set between Carinthia and Cadore. Departing as usual from our "kilometre zero" and general headquarters, the car park at Terme di Arta, we head towards the Tagliamento valley. But let's talk about the CLIMB. Having followed cycleways among green countryside past the villages of Villa Santina, Quinis and Socchieve, we arrive in Ampezzo and turn right, leaving all signs of civilisation behind us as we enter the woods for the gentle 10-kilometre climb to Lake Sauris.
The route takes us through 5 splendid tunnels carved entirely out of the rock.
Inside, making things even more picturesque, the road is paved with cobblestones. After the fifth and last tunnel, we arrive at km 39, emerging as if by magic on the Sauris dam, 135 metres tall, where we can admire the immense lake it contains. After the dam, we continue to flank the turquoise water as we head towards the hamlets of Sauris di Sotto (km 43.2) and Friuli's highest village Sauris di Sopra (km 46.2), with their wooden buildings studded with geraniums, towards the most delicious prosciutto in the Alps and some of Friuli's best craft beers.
Leaving these two villages, we continue towards Casera Razzo on a 3-kilometre climb that brings us to a total of 1700 m elevation gain in approximately 53 km, but that's not all: here, from a magical bench at an incredible viewpoint, we can admire everything we've seen on this route, almost as a final display of this spectacular landscape.
We don't know how long you'll sit there, holding your breath and listening to the silence broken only by the wind in the fir trees, your gaze lost in the immensity of the Alps; what we do know is that after this there's a very long descent of 28 km, down the valley of time to the village of clocks! Pesariis! We won't tell you what you'll see in this village at km 74.6, apart from that you'll be surrounded by clocks of all types, and that visitors from all over come here to admire the place… Tired but happy, we head back towards Arta Terme.
Distance: 111 Km
Elevation gain: + 1993 mt
Max altitude:  1811 mt
Min altitude: 321 mt
Max gradient: 19%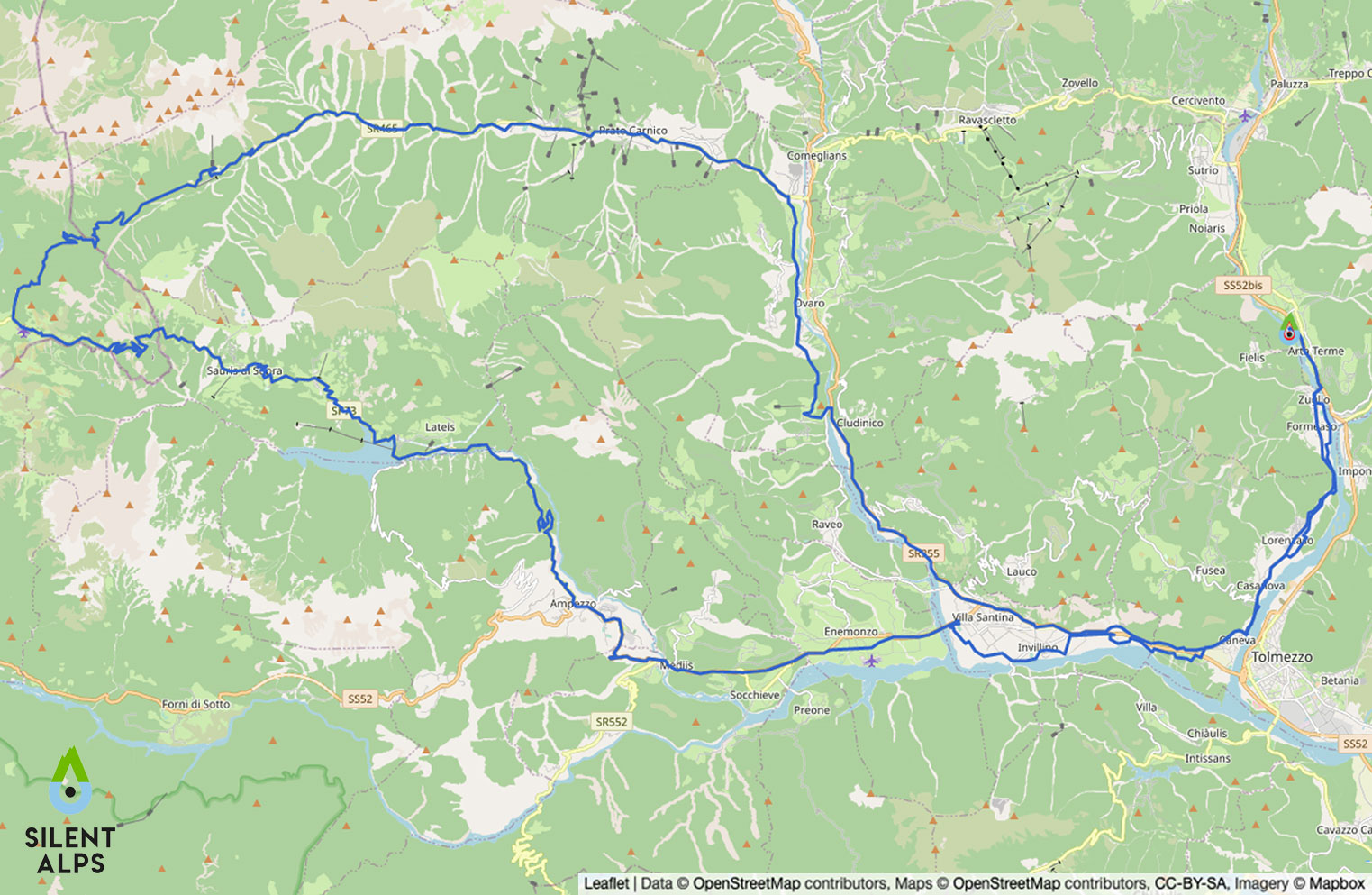 2
Km 14,5
Tree-lined cycleway.
4
Km 17,6
Villa Santina lake.
5
Km 20,0
Turn left for Enemonzo.
7
Km 21,7
Turn left to return to the secondary road.
8
Km 26,1
Start the climb to Ampezzo at the Passo del Pura exit (6.5 km at average 4.5%, including a downhill section).
9
Km 29,2
Ampezzo (water, refreshments and coffee available in a number of bars).
10
Km 29,8
Turn right for Sauris and enter the Lumiei valley.
11
Km 34,4
The first tunnel, "Clap della Polenta" (527 metres, cobbled, use lights).
12
Km 36,2
The second tunnel, "Pala Pelosa" (314 metres, cobbled, use lights).
13
Km 36,7
The third tunnel, "Puinton" (525 metres, cobbled, use lights).
14
Km 37,8
The fourth tunnel (200 metres, cobbled).
15
Km 38,1
The fifth tunnel, "della Diga" (726 metres, cobbled; caution: the darkest tunnel, use appropriate lights) .
22
Km 56,1
Turn right for Val Pesarina.
24
Km 82,2
Turn right for the Degano valley, then take the cycleway to Arta Terme.
Arta Terme Benessere Alpino
Consorzio Turistico
Via Nazionale, n. 1
33022 Arta Terme (UD)